Leave No Docking Space Unchecked
With schedules and timely shipping & receiving being such a big part of business today, loading dock damage can extend far beyond the cost of equipment. Shutting down a dock to effect repairs can put a serious dent in workflow, order timing, customer relations, and profits.

It has been estimated that an out of commission loading dock can ring in at a cost of about $1700 USD per hour.
Download Dock Bumper White Paper
Check out our wide assortment of dock safety products that keep your building, equipment, and employees from damage & injury and your operations running efficiently.
Guard rail systems provide protection for your facility and equipment from damage caused by vehicles like pallet jacks, forklifts, trucks, trailers, and more. They can also be used to create aisles for vehicle traffic to keep pedestrians safe. Utilizing the correct amount and type of guard system ensures a safe environment for your people, reduces accidents, and protects valuable equipment. Many are designed to have replaceable components that allow you to fix damage to maintain protection even after an incident.
All Hands On Deck: The Ultimate Buying Guide For Coated Gloves
According to the US Bureau of Labor Statistics, hands are the second most frequently injured body part. In 2020 alone, there were over 102,000 reported injuries with cuts & lacerations being the most common injury by a large margin.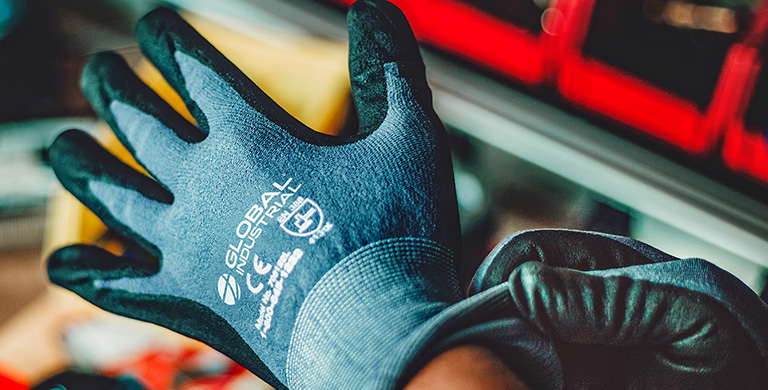 Despite knowing they wear hand protection, many people do not, because:
Gloves are too hot and make their hands sweaty.
Forgot them in their vehicle, at home, in a tool box, etc.
Loss of fine motor coordination (can't grab a nail from pouch or thread a nut onto a bolt).
They are uncomfortable and/or do not fit correctly.
Hard to use tools and machinery.
No one else is wearing them, so they don't want to look out of place.
Which one is an issue for your people?
Get Inspired And Educated