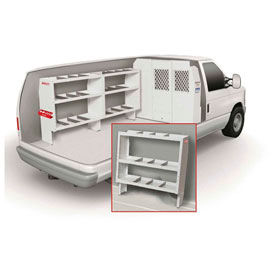 Weather Guard Van Storage Packages
Weather Guard Van Storage Packages Provide Organization And Storage Of Equipment And Tools For Transport And Job Site Needs.

Weather Guard Van Storage Packages are made of steel to provide long lasting durability. Shelving is adjustable to customize van fit, equipment or gear as needed. Sturdy bulkhead partition separates drive compartment from the cargo area for maximum protection against shifting loads. Available packages include Cable/Plumber, Commercial Shelving, Electrical Contractor, General Service, HVAC/Mechanical and Plumbing. Some packages include adjustable shelving, bulkhead and swing door kit. Packages can be used with Ford Transit and Ford Transit Connect models. Additional products available to create a custom van solution. Dimensions and package contents vary.