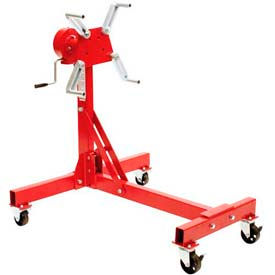 Engine Stands And Cranes
Engine Stands and Cranes Provide Efficient Handling and Positioning of Automotive Engines Requiring Repair Or Rebuilds.

Engine Stands and Cranes are made of heavy gauge welded steel construction for long lasting durability and dependability. Engine Stands feature rotating head that locks in any position, long handles or crank devices for easy rotation of engine and sturdy tubular steel frames with swivel casters for maneuverability. Casters lock to prevent stand from moving while in use. Engine Cranes provide hydraulic controlled, adjustable length booms that raise and lower engines on swivel hook for full rotation of load. Engine Hoists have a space-saving foldable design for easy storage. Scissor Jacks are compact and easy to deploy for roadside emergencies. Available lifting capacities range from 0.5 tons – 1000 lb. Dimensions vary per model.