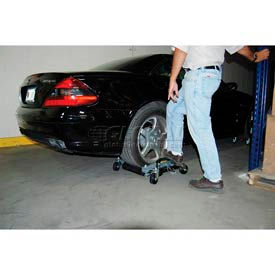 Vehicle Positioning Jack Dollies
Vehicle Positioning Jack Dollies are the Easiest Way to Move Automobiles around your Garage.

Versatile Vehicle Positioning Jack Dollies allow a single person to move cars, trucks and ATV's around the repair facility with ultimate flexibility. There is no need to jack the vehicle up and place Dollies under each tire, as each unit combines a Jack and Dolly together in one simple piece of equipment. Perfect for moving vehicles under repair or restored automobiles in confined spaces, Dollies allow cars to roll backwards, forwards and sideways easily. Foot-operated hydraulic jack squeezes the support legs together, smoothly and safely lifting the tire off the ground in seconds. Manufactured of high-strength steel and four phenolic swivel casters, each Dolly offers 1500 lb. capacity; two Dollies (3000 lb. capacity) permit full 180° pivot and four Dollies (6000 lb. capacity) allow 360° rotation. Sold individually.

Optional Mobile Storage Stand safely stores and transports up to four vehicle positioning jacks in one neat package.