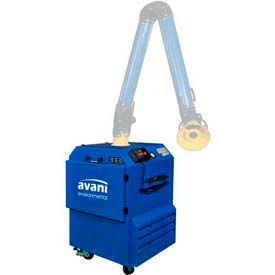 Portable Fume Extraction and Filtration
Portable Fume Extraction And Filtration Are Used For Applications Including Construction, Industrial, Maintenance, And More.

Avani portable fume extraction and filtration is made of high quality materials for long lasting durability and dependability. Unit is designed to filter and capture airborne contaminants for worker safety and protection. Devices accommodate field work, maintenance, welding, and more. Lightweight, portable design allows ergonomic mobility and transport. Includes extraction hose with flexible steel tube hood assembly and magnetic support base for hands free operation. Features a filter change status LED light and integrated spark trap for fire safety. Dimensions vary per model.