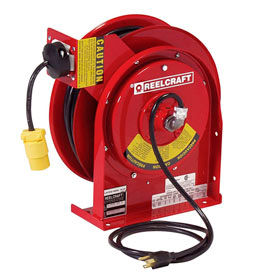 Reelcraft™ Medium Duty Power Cord Reels
Reelcraft™ Power Cord Reels Secure Cords In Industrial Work Areas With Critical Space Requirements.

Reelcraft™ Power Cord Reels allow cord management in a variety of industrial environments. Reels are made with a heavy-gauge steel frame that is mountable on most structurally-sound surfaces. Enclosed drive mechanism ensures protection from environmental wear. Reelcraft™ Power Cord Reels are available with Duplex GFCI Outlet With Cord, Flying Leads, RV Male With Cord and Single Outlet options. Models are available with and without cords. Dimensions vary per model.