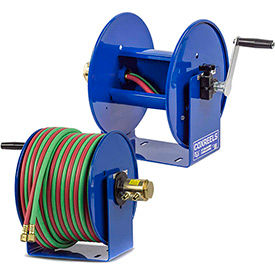 Hand Crank Welding Reels
Reelcraft™ and CoxReels Welding Reels Are Used For Workshops, Construction, Automotive Work And More.

Reels allow hoses and cables to be safely and compactly wound and secured for workplace hazard prevention. Heavy-duty reinforced steel stamped guide arm. Permanently lubricated reels for long life. Hose Reels are used for oxygen/acetylene or welding gas hoses. Reel frames, spools and drums are made from heavy gauge steel with red powder coat finish for lasting durability. Double-sealed O rings prevent leakage. Full-flow shaft swivels for added positioning options. Cable Reels are made with an all-bolted heavy-gauge steel body for lasting durability. Maintains proper bend radius of cable for longer cable life. Cable reels have a current path through a continuous 400 AMP, 90V DC (maximum) rated enclosed slip ring. Manual drum lock prevents spool from turning when not in use preventing unwanted payout of cable.