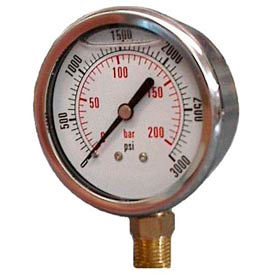 Dynamic Glycerine Filled Pressure Gages
Dynamic Glycerine Filled Pressure Gauges Offer Accurate Measurements For High Vibration Levels and Dynamic Pressure Loads.

Dynamic glycerine filled pressure gauges feature wear-and-tear resistant stainless steel case and a phosphor bronze bourdon tube for long lasting durability. Large 2 -1/2" dial provides accurate, easy to read display. Dual Scale Psi & Bar and a Temperature Range of -40° to 180° F. Equipped with a brass connection (0-10,000 Psi), PSI varies. Port size is 1/4" NPT.