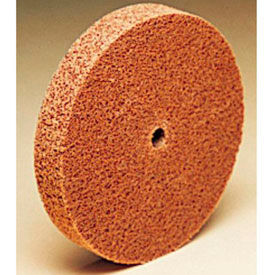 Deburring & Surface Conditioning Wheels
Deburring and Surface Conditioning Wheels Are Suitable For Applications Including Construction, Commercial, Industrial, And More.

Deburring and surface conditioning wheels effectively smooth, deburr, and finish metal alloys, plastics, composites, and more. Various densities and grades accommodate gentle and aggressive materials for application versatility. Load resistant, open-web material maintains abrasive mineral cutting by limiting nylon fiber clogging. Most models minimizes heat buildup for use on heat sensitive materials. Units reduce smearing for efficiency and maintenance ease. Mineral types are Aluminum Oxide and Silicon Carbide. RPMs range from 1900 to 30,100. Dimensions vary per model. Grits and additional specifications vary per model.