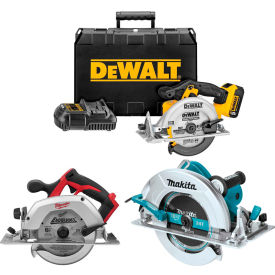 Wood Cutting Circular Saws
Cordless Wood Cutting Circular Saws Ensure Precision Straight Cutting Power With Superior Control.

Cordless Wood Cutting Circular Saws are made with heavy-duty aluminum foot and upper guard for long lasting durability. 50° bevel and anti-snag guard provides smooth cutting. Available types are Bare Tool, Circular Saw and Kit. Blade sizes range from 6-1/2" to 7-1/4" depending on the model. Available Voltage Range is from 12 - 120. Available Speeds range from 300 - 2800. Some models available with 1, 2, or no batteries. Additional specifications vary per model.