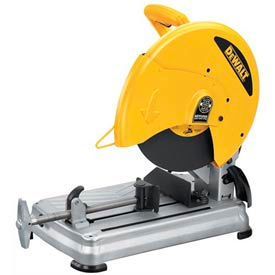 Heavy Duty Chop Saws
Chop Saws Are Designed For Power Crosscutting and Mitering Applications.

Chop Saws provide precise cutting for wood applications at desired angles. Quick-Lock Vise allows for fast clamping on different size materials to increase productivity. Ergonomically designed "D" handle provides a more comfortable hand position, reducing fatigue. Spindle Lock allows user to make wheel changes quickly and easily. Adjustable spark guard allows the user to direct sparks away from the work area. Solid steel base provides increased stability when cutting longer material. 14 Inch Chop Saw is available with or without Quick-Change Keyless Blade Change System that allows the user the ability to change wheels without a wrench. 14 Inch Multi-Cutter Saw has 70-tooth carbide tipped blade that offers the versatility of cutting a wide variety of materials including ferrous and non-ferrous metals.