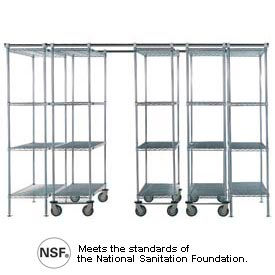 Nexel® Space-Trac High Density Mobile Storage Systems
Nexel® High Density Mobile Storage Systems Help You Double Your Storage Capacity Using Minimal Space.

These unique overhead track systems provide instant access to inventory while freeing floor space and increasing the number of shelving units used in a designated area. Used for dry storage, coolers and walk-in freezers. Utilizes 2 stationary units; one on each end, connected with an overhead track that allows mobile shelving units in between to smoothly shift side-to-side for easy access to inventory and stock items. Includes two 12 ft' or 14 ft Long overhead stainless steel tracks. Guide tracks connect units together for an easy slide-along track shelving system. 4 height adjustable shelves on each shelving unit features an open wire design for air, light and sprinkler penetration while minimizing dust accumulation. Shelves adjust at 1 increments. Each mobile unit includes (4) 5 polyurethane casters. Chrome features an electro-plated nickel-chrome finish for a brilliant high gloss. Poly-Z-Brite® (Clear Epoxy) offers a 10-Year Limited Warranty against rust. Made with a powder-epoxy over zinc-chromate electroplating. Poly-Z resembles the look of chrome, but handles extreme temperatures and moisture. Assembly required.

Custom lengths & shelf units are available upon request.