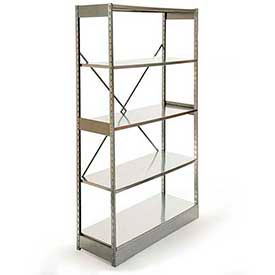 Excalibur M-Shelving - Galvanized
Excalibur M-Shelving Is Used For Providing Versatile, Strong And Reliable Stockroom Shelving Solutions.

Excalibur M-Shelving is made of fully assembled, corrosion-resistant galvanized steel uprights and shelves for long lasting durability and dependability. Easy to assemble, cost-effective design. Pre-assembled uprights and one-piece adjustable shelves eliminate the need for additional hardware (clips, rivets, rails or support brackets). 5, 6 or 7 level Galvanized Steel Upright And Shelving units are available in 24, 36 and 48 inch widths, 12, 15, 18 and 24 inch depths and 72, 84 and 96 inch heights with 150, 200, 250, 300, 350, 400 and 450 lb. shelf load capacities. Single 1-1/2 inch Galvanized Steel Shelves available in matching dimensional sizes. Made in U.S.A.