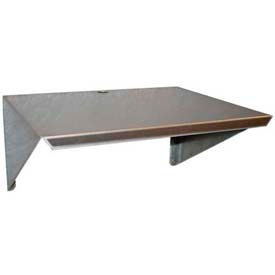 PVI - Alumium Wall Shelving (Solid Shelf)
PVI - Alumium Wall Shelving (Solid Shelf) Is Designed For Holding Microwaves or For Numerous Other Commercial or Industrial Storage Applications.

PVI - Alumium wall shelving (solid shelf) is made of corrosion proof all aluminum construction for lasting durability and dependability. welded corners. 1-1/2 inch backsplash. Ships "Knock-Down" with easy assembly. Pre-drilled gusset supports. Each support mounts with only 2 fasteners. Available in 24, 36, 48, 60 and 72 inch lengths.

** NSF CERTIFIED * 2678: Decorative LED Flush Mount Fixtures https://wcus.globalindustrial.com/picGroup/picGroupKey/2678 Decorative LED Flush Mount Fixtures Provide Ambient Lighting for Indoor Applications Including Residential, Commercial, Hospitality, and more.

Decorative LED flush mount fixtures offer strong light sources. Fixtures improve interior décor, energy efficiency, cost effectiveness, and space requirements. Round, oval, or square low profile fixtures available. Wattages range from 2 to 70. Lumens range from 550 to 5800. Color temperatures are 2700, 3000, 4000, and 5000. Color rendering indexes are 80-83. Dimensions and additional specifications vary per model.