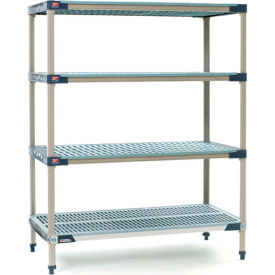 MetroMax 4 All Polymer Shelving System
MetroMax 4 All Polymer Shelving System Is Suitable For Stock and Bulk Storage In Need of Corrosion Proof and AntiMicrobial Protection.

MetroMax 4 all polymer shelving system includes removable open grids or solid shelf mat sections that are ideal for storage rooms. Rigid polymer construction shelving is adjustable at 1" increments and provides high level and even support. Most carts are NSF listed for all environments and capable of transporting a maximum total unit load of 600 lbs. (272kg) evenly distributed. Select models include caster wheels for easy transport mobility to different locations. Available Types are Mobile and Stationary. Lifetime Warranty, dimensions, and additional specifications vary per model.