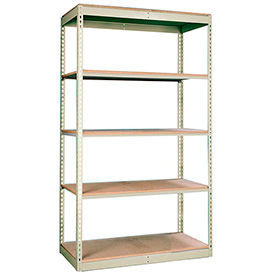 Hallowell Rivetwell Boltless Shelving
Hallowell Rivetwell Boltless Shelving Without Decking Maximizes Storage Space While Minimizing Set-up Time.

Shelving without decking have components that attach snugly to one another without the need for loose fasteners. Factory attached rivets are left-to-right and front-to-back beams that align with keyhole slots in the vertical posts. Tap into place using a rubber mallet, for tightly assembled shelving that provides maximum strength and stability. Available in single and double rivet models. Use Hallowell Particle Board or EZ-Deck decking (double rivet only) - sold separately. Available shelf quantities are 3, 4, 5, 6, 7, and 8. Up to 2000 lb. shelf capacity. Available Heights are 84" and 120". Additional specifications vary per model.