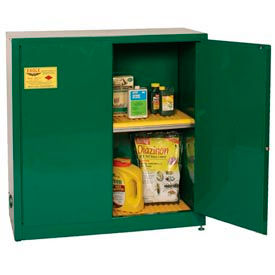 Eagle Pesticide Safety Cabinets
Eagle Pesticide Safety Cabinets Are Used For Companies Specializing In Agricultural Management.

Eagle safety cabinets are made using an all-welded body with reinforced double walls. 1-1/2 insulating air space on top, bottom, back, sides and doors. 2 vent with fire baffle and cap. All doors on safety cabinets are self-latching for secure closure. Three-point key lock with button latches for secure closure. Tri-lingual warning labels. 2 raised front sill prevents leaks. Corrosion-resistant powder coat finish. Poly shelves and trays help contain small spills for increased corrosion protection. All steel cabinets meet NFPA Code 30 specifications and OSHA requirements.