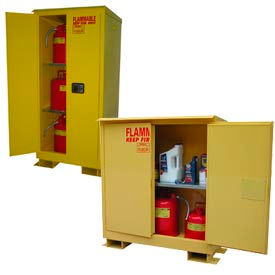 Weatherproof Flammable Safety Cabinets
These Safety Storage Cabinets Feature Added Protection Against The Elements For Outdoor Use!

Flammable storage cabinets are made using double walled, all welded 18 gauge galvannealed steel finished in UV, weather and scratch resistant urethane coating. Outdoor safety cabinets feature a sloped roof with 2-3/4 overhang. Interior and exterior astragals prevent rain penetration. Includes 1-1/2 insulating air space. 3-point self latching doors have corrosion resistant stainless steel recessed paddle handles for a catch-free surface. Doors are secured using full length piano hinges for security. Flammable cabinets include galvanized steel shelving, two 2 flash arrestor vents, large warning label and 2 D leak-proof door sill. Built-in heavy gauge fork pockets allow 2-way forklift access and include pre-drilled 7 gauge welded steel base plates to allow floor anchoring. Self-Closing Cabinets include fusible links that melt at 165° to automatically close and latch doors in case of fire. Meets EPA 40, CFR 264 & 265 and NFPA Code 30 standards. Complies with OSHA 1910 requirements.