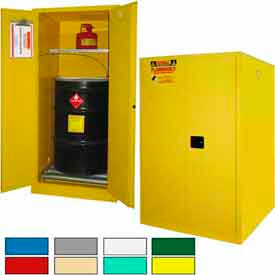 Securall® Hazardous Waste Drum Storage Cabinets
Securall® Hazardous Waste Drum Storage Cabinets Provide Safe Measures To Store And Contain Flammable Hazardous Waste.

Securall® Hazardous Waste Drum Storage Cabinets are made of galvanized steel shelving and two-part urethane with aliphatic polyurethane finish to resist chipping and peeling for long lasting durability. Polyurethane coating resists salt spray, chemical rub, UV damage and more. The double wall construction with 1-1/2" air space, flush mounted locking handle and static grounding bolt provide additional security and containment. Three-point self latching (Non Sparking) doors ensure that flammable materials are properly locked. Large warning label provides extra security measures and helps restrict handling of pesticides to authorized personnel. Leak proof sill 2" deep. One or two adjustable shelves included and equipped with Roller Bottoms for easy loading of heavy cans. Resource Conservation and Recovery Act (RCRA) and OSHA compliant. Cabinets are available to accommodate 60, 75 or 120 gallon drums. Available with Manual Close Doors, Self-Closing Safe-T-Doors or Self-Closing Sliding Door. Choose from a variety of colors.