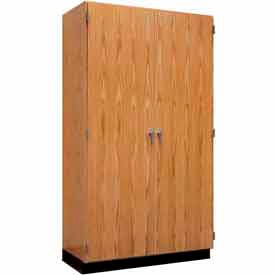 Wood Storage Cabinets
Wood Storage Cabinets Are Used For Classroom And Other Home or Office Secure Storage Applications.

Wood Storage Cabinets are made of solid Oak or Birch plywood veneers for long lasting durability and dependability. Jonti-Craft® and Diversified Woodcrafts brands offer various size fixed or mobile type locking cabinets to meet particular need or application. Used for classroom use as well as other home or office storage or supply requirements. 3, 4 or 6 combination fixed or adjustable shelf cabinets are available in 36, 45 and 48 inch widths, 22 and 24 inch widths and 46, 72 and 84 inch heights. All but one model shipped fully assembled. One model shipped unassembled for greater economy.