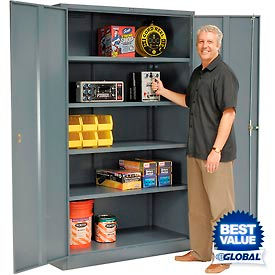 Global Industrial™ Full Height Storage Cabinets
Global™ Full Height Storage Cabinets Ensure Content Security In Heavy Warehouse and Garage Environments.

Global™ Full Height Storage Cabinets store equipment, tools and supplies within an secure and accessible cabinet. Ideal for storing equipment, tools and supplies. Most cabinets have adjustable shelving for organization preference and to fit tools of larger dimensions. Select metal storage cabinets have extra large 4" hinges to provide maximum security and feature a jumbo 3/8" diameter hinge pin. Cabinets with a 3-point latching mechanism feature a super strong round locking bar and nylon guides for silent operation and consistent alignment. Available Handles are Recessed or Turn. These storage holders are made of cold rolled steel or standard industrial rigid steel. Additional shelves sold separately in matching colors. Available widths are 36"or 48". Dimensions and additional specifications vary per model.