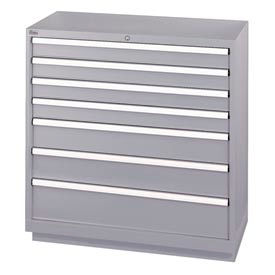 Lista® 40-1/4"W Modular Drawer Cabinets
Lista® SC Series Counter Height And Eye Level Cabinets Provide Secure Vertical Storage.

Lista® SC Series Cabinets are made using firmly welded steel for long lasting durability. Standard and shallow depth modular drawers provide optimal use of vertical space and maximum storage flexibility. PrevenTip® locking system prevents accidental tipping. Ergonomic handles improve safety and appearance. 6 drawer to 16 drawer units for each depth are available. Limited Lifetime Warranty. Options include: No Lock, Keyed Alike, Individual Lock and Master Keyed. Colors are: Bright Blue, Classic Blue and Light Gray.