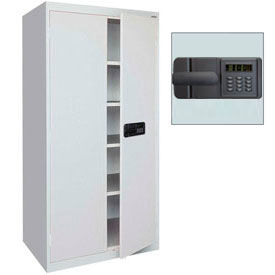 Keyless Electronic Keypad Welded Storage Cabinets
Keypad Locked Storage Cabinets Offer Secure, Limited Access To Contents For Office & Warehouse Environments.

These industrial strength storage cabinets are made with 22 gauge welded steel. These steel storage cabinets have up to 230 lb. shelf capacity and meet ANSI/BIFMA shelf capacity standards. Shelves are height adjustable at 2 increments. Double doors feature three sets of hinges on each door and lock with a keyless electronic coded system. Coded lock is available with 2 passwords; the administrator and user. Passwords can be changed to any combination; 4 for the user and 6 for the administrative password. Keypad keeps record of day, date and time of access. Includes emergency key access. Powder coat finish. Shipped assembled. 5 Year Limited Warranty.