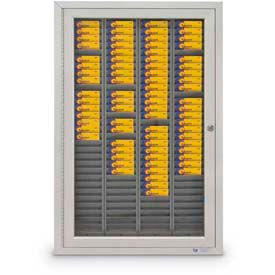 Badge & Time Card Cabinets
This secure system ensures cards are always in the correct place, eliminating loss or misuse.

The clear acrylic window allows cards to always be in view, while also securely enclosed. Cabinets are constructed of Anodized Aluminum with a full-length piano hinge door and a traditional frame. Cabinets can be wall-mounted or mounted in a solid-steel frame stand with 3" swivel casters. Choose from single door cabinets with either 60 or 120 badge slots or a double door design with 240 badge slots.