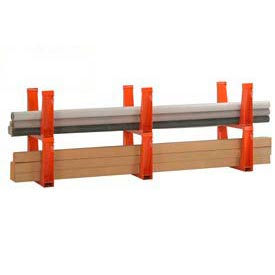 Safety U-Rack (Stackable)
Safety U-Rack Storage Racks Securely Hold Bars, Channels, Angles, Pipes, Lumber and other Long Items.

Safety U-Rack Storage Racks can be stacked up to 4 high for added versatility. Safety pins lock stacked pipe racks together to help protect employees from injury. Bar and lumber storage racks are made with heavy duty welded steel for long lasting durability. Available load capacity is 10,000 lbs. Color finish is Orange. Dimensions vary per model.