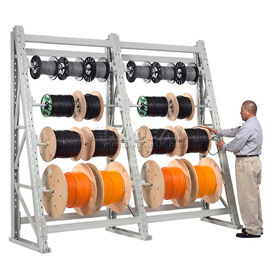 10,000 lb. High Capacity Reel Rack
10,000 lb. High Capacity Reel Rack Provides Storage For Heavy Duty Reel Sizes.

10,000 lb. high capacity reel rack adjusts to hold spools that measure up to 60" in diameter. The axle brackets accommodate up to 2" diameter axles for a 2000 lb. capacity per pair. Safety pins lock the axle brackets and cross beams to the 12 gauge steel upright frames that measure 3-1/2" W x 3" D. 10 gauge steel axle brackets attach to lapped and welded beams with three hooks for a positive connection. The cross beams and brackets on these storage racks adjust on 3 centers for large or small reels. Reel storage rack should be secured to floor.

Starter Unit includes 2 upright frames with built-in brace set, 2 pairs of cross beams and 4 pairs of axle brackets.
Add-on has same components as starter except includes one upright frame.
Axle Kit includes two 1" and two 1-7/8" diameter axles (Sold Separately).