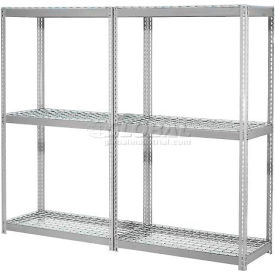 7'H Expandable Bulk Metal Storage Rack With Wire Deck
Modular bulk metal storage racks with wire decking are extremely durable and dependable. The sturdy steel wire decking allows ventilation, visibility as well as light and sprinkler penetration (reducing insurance premiums). These racks are easy to expand, assemble and allow access from all sides. The boltless design snaps together securely without tools or hardware. Add-On racks include 2 T-posts that join units with more stability and less construction than bolting 2 starter units together. Roll formed 14 gauge steel uprights ensure rigidity. Levels adjust at 1-1/2 increments without disassembly. Choose from gray or tan scratch resistant enamel finish and 3 or 4 level units.

Add-On Unit includes 2 upright T-posts, 3 or 4 sets of beams and wire decking.

Starter Unit includes 4 upright angle posts, 3 or 4 sets of beams and wire decking.