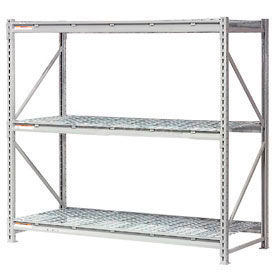 Global - Extra High Capacity Metal Bulk Storage Rack With Wire Deck
Global Extra High Capacity Metal Bulk Racks Offer Twice The Capacity Per Level Than Standard Pallet Racks.

UP TO 3,800 LBS PER LEVEL CAPACITY!

Extra heavy duty bulk storage racks feature a Z beam and frame that offers higher capacities per level compared to standard bulk racks. Z-profile beams easily attach to the upright frame using 12 gauge beam connectors that have 3 hooks on each end for positive locking. 14 gauge heavy duty 1-3/4"x 1-3/4" steel upright frames allow beam height adjustments at 2" increments. Shelf levels include wire mesh decking for shelf support. Wire decking features an epoxy finish and 3" square openings. Formed step beams and deck supports allow increased capacity. Welded base plates allow floor anchoring for stability. Heavy duty shelving units include a gray scratch resistant powder coat finish.