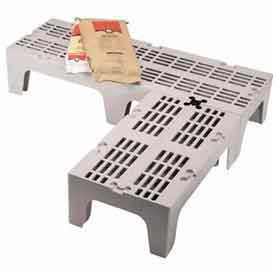 Cambro - Poly Dunnage Racks
Cambro - Dunnage Racks

* Keep frozen, cold or dry inventory 12" (30,5 cm) safely off the floor.
* All units are 21" wide. * One-piece, heavy-duty polypropylene construction is easy to clean.
* Will never rust, corrode or bend.
* Choose slotted tops for maximum air circulation around perishable products.
* Solid tops are used for storing non-perishable products or equipment.
* Load capacity up to 3000 lbs.
* Includes one Camlink Connector to securely lock multiple racks together for greater stability.