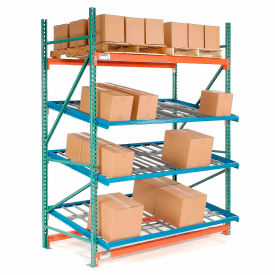 Gravity Flow Levels for Pallet Rack
Pallet Rack Flow Level retrofits your pallet rack to a carton flow rack in moments! Clips allow installation to any Tear Drop Pallet Rack or uprights with 2" centers and slotted openings of 7/16"minimum. This gravity flow level helps add more products in half the space! Increases productivity and workflow by increasing ease of reach and minimizing travel. Knockdown levels easily bolt together. Includes 4 hanging clips per level for easy height adjustments. Smooth front beams accept sticker labels for identification. Kenrail roller tracks are made with 22 gauge inverted channel steel and include 7/8" dia. rollers on 1 ½" centers. 22 gauge roll-formed steel guide rails adjust at ½" increments for lane adjustments. Levels include 12 Kenrail and 5 guide rails. Clips allow 1" height adjustments. 25 lb. per sq. ft. capacity.

Can be used on 42" & 48" deep Pallet Racks.