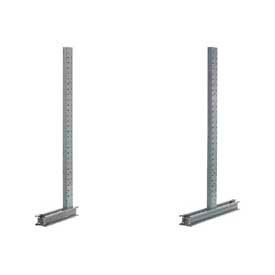 Global Approved (1000 Series) Uprights - Single & Double Sided - 16200 Lb Max. Capacity
Upright Single and Double Sided Medium Duty Cantilever Racks Provide a Low-Cost Storage System for Pipe and Lumber Supplies.

Upright Cantilever Racks store long bulk products with ease by allowing arm height adjustments on 3" centers. Racks are made of durable steel for long lasting use. Single Sided Uprights are used for placement up against the wall. Double Sided Uprights are used for center of aisles or rows. Available storage capacities range from 3100 to 16,200 lbs. Color finish is Gray Enamel. Dimensions vary per model.

How to order:
1. Determine upright type, height and base. Note: Must purchase two uprights per starter unit; one per add-on unit.
2. Choose arm length and type desired.
3. Order one brace set per bay. Brace sets are measured from center to center of uprights.