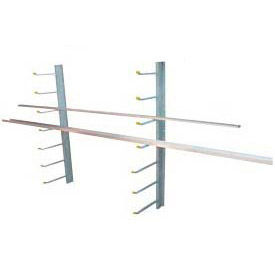 Wall Mount Storage Rack
Wall Mount Storage Rack Allows Out of the Way Storage for Warehouses, Factories, and more.

This wall mounted storage rack stores bar stock, lumber and more. Sturdy steel pipe rack is equipped with a total of 7 arms: three 15" arms with a 9" height clearance and four 12" arms with a 7-1/4" height clearance. Provides a total rack capacity of 1,000 lbs. when load is evenly distributed. Attractive, bright zinc plating. Fast, easy assembly. This bar and lumber storage rack measures 60"H overall and weighs only 25 lbs. Sold as in pairs only (Image shown with one pair).