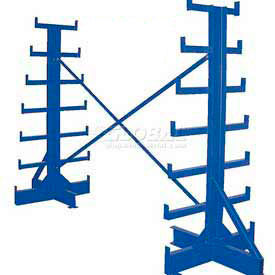 Bar Stock Storage Rack
Conveniently Store Bars, Lumber, Pipes And More On One Storage System With These Bar Storage Racks.

These tree-like storage racks include 2 uprights and one set of bracing for strength and rigidity. Bar storage racks are made of durable steel with blue painted enamel finish. Varying length arms store different sized and length materials. Withstands capacities up to 2,000 lbs. per level; 500 lb. capacity per arm. Lumber storage racks have 10 height clearance between arms. Measures 84 W x 39 D x 81 H overall. Available in Double and Single Sided Units. Starter Racks include 2 uprights, a set of bracing and 6 arms per level. Purchase Add-On Racks that include 1 upright, 1 set of bracing and 6 arms per level to create rows of storage racks. Double Sided Racks allow access from both sides.