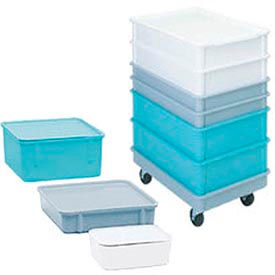 Molded Fiberglass Fiberglass Stacking Boxes
Molded Fiberglass Stackable, Polyester Fiberglass Storage Containers Are Designed For Parts Handling and Transporting.

Molded fiberglass stacking boxes endure temperature extremes from -40° to +300°F. These containers can handle forgings, machined parts, stampings, ceramics, rubber and other hot parts from molds or processing machines. Storage containers are not affected by oils, grease, degreasing operations cutting oils. No sharp edges; won't damage delicate machined parts. Tote boxes have optional tight seal white lids that secure contents that weigh up to 200 lbs. For mobility, just add a dolly to these shipping containers. Additional specifications vary per model.