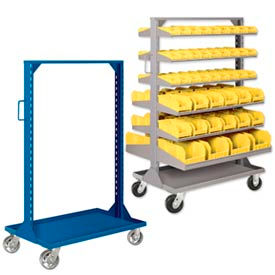 Portable Bin Racks & Panel Carts
Portable Bin Racks And Panel Carts Offer Mobile Storage And Shelving Units For Easy Access And Organization Of Small Parts.

Portable Bin Racks And Panel Carts store and organize small parts with excellent visibility and access. Constructed of break-resistant polypropylene for long lasting durability. Easily add or remove bins from the heavy-duty, 16-gauge enamel steel pick rack or stack bins as needed to make the best use of space. Available styles include Flat Shelf, Louvered Panel, Pegboard Panel, Sloped Shelf, or Vertical Hanger for Portable Bin Cart, and Portable Bin & Shelf Cart w/ or w/o Louvered Panel. Available colors are Black, Blue, Gray, Putty. Dimensions vary per model.