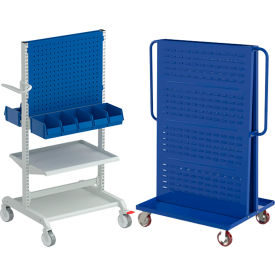 Modular Bin & Panel Carts
Modular A-Frame Bin, Tote And Container Storage Carts Are Designed For Secure and Mobile Storage and Organization of Tools, Parts and Supplies.

Modular A-Frame bin, tote and container carts are made of solid steel construction for long lasting durability and dependability. Variety of pegboard and louvered wall panel combinations for efficient pick rack type organization of parts and supplies. Select decks feature a 1-1/2 inch lip with 10 inches of deck space on each side of the panel for extra storage of other tools and supplies. Most models move easily on 6 inch phenolic casters, 2 swivel and 2 rigid. Bins not included. Wide selection of up to2000 lb. load capacity, 62 or 64" height, 28-3/16" and 30" depth units are available in 2 Louvered/1 Pegboard, 2 Pegboard, 2 Louvered, 2 Pegboard Panel/Bin Rail/Mid Shelf, and 4 Pegboard Panel/Bin Rail styles and Gray, Blue, Light Gray/Blue, and Red color finishes.