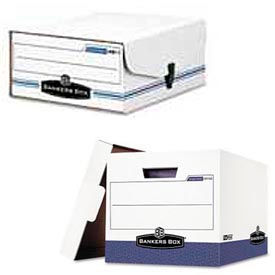 Storage Boxes For Binders & Computer Printout
These Storage Boxes Are Designed For Storing And Organizing Binders Or Computer Printouts To Keep Records Neat And Dust-Free.

Maximum-strength Data-Pak file storage boxes have a heavy-duty construction that withstands the weight of bound computer printouts. To store 1-1/2-3 binders use the Binder Storage Boxes. These binder boxes have a top-loading design that allows quick binder retrieval and extra hand room for easy transporting. The lift-off lid locks in place for secure storing.
The basic-strength Liberty Binder Pak features compressor rings and plastic posts to bind papers. The binder/lid opens easily and locks closed with a rugged plastic fastener. Posts adjust to 2-3/4 or 4-1/4 for a variety of document types.

Sold in carton quantities.