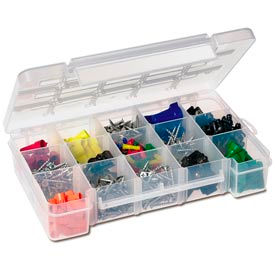 Plastic Compartment Organizer Boxes
Plastic Compartment Organizer Boxes Are Designed to Store and Transport Small Parts for Workshops, Studios, Classrooms, and more.

Plastic compartment organizer boxes provide storage for micro accessories and narrow tools. Box compartments and base design is made of impact resistant plastic to hold and protect contents. Most models feature transparent lids for clear visibility. Lids latch shut for secure closure. Some models feature grid indentations on lids to prevent stored items from spilling into other compartments. Select units include an O-ring seal to keep water out of supplies. Double-sided Organizers provide twice the storage capacity. Single-sided w/Inhibitor Chips protect stored contents from rusting. Dividers are Fixed or Adjustable. Compartment capacity and additional specifications vary per model.