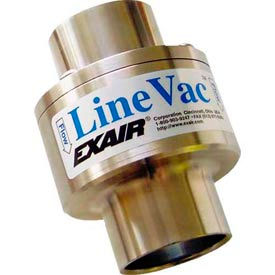 Exair Air Powered Conveyors
Exair Air Powered Conveyors Connect To Standard Hose, Pipe, or Tube For Commercial, Automotive, Maintenance, and Other Related Applications.

These air conveyors are designed for moving large volumes of material over long distances for speed and efficiency. A small quantity of compressed air is injected through directed nozzles to produce a vacuum on one end and high output flows on the other. The compact design features large throat diameters for maximum output. The units are made of aluminum and steel for lasting strength and durability. NPTs are 1/4" and 3/8". Interior dimensions are 0.75", 1", 1.25", 1.5", and 2".