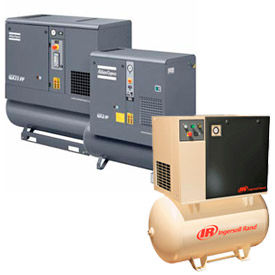 3-Phase Tank Mounted Rotary Screw Air Compressors, With Dryer
Rotary Screw Air Compressors Efficiently Provide High Volumes Of Air With Minimal Noise Or Vibration.

Rotary Screw Air Compressors are solidly made for long lasting durability and dependability. Oil-injected compressors feature a continuous duty cycle to provide 100% continuous flow operation of compressed air for user convenience. Automatically resets to idle pressure reducing power consumption to a low level when system demand is low. Horsepowers of 3 to 30. CFM ranges from 8.5 to 130. Available tank capacities are 60, 80 and 120 Gallons. Tank orientation is Horizontal. Dimensions vary per model.