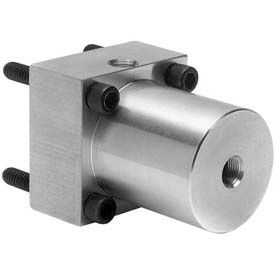 Directional Control Air Cylinder
Directional Control Air Cylinder Converts Buyers HV Series Valve From Manual Operation To Air Actuated Operation.

Directional Control Air Cylinders start, stop or change the direction of flow in compressed air applications. Bonded spool valves use an elastomer to seal against pressure to provide virtually leak free operation. Standard valve goes through a blocked center, which prevents blowby from the exhaust ports when changing from one flow pattern to another. Spool valves are tolerant of dirt and compressor varnish and when lubricated properly, will cycle for millions of operations. Spool valves are available in 3-way and 4-way configurations. Available style is Buyers Single Spool Air Cylinder, AS1.