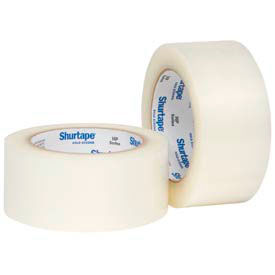 Carton Sealing Tape - Acrylic
Industrial Grade Acrylic Carton Sealing Tape Provides Excellent Adhesion to Corrugated and Superior Box Sealing Performance.
Industrial Grade Acrylic Carton Sealing Tape has a wide temperature of
0- 140 degrees
and withstands discoloration. Industrial Acrylic Carton Sealing Tape holds adhesion against aging, high UV weathering resistance, and high shear strength.
Tape Mil ranges from 1.6 to 3.1
Consider the weight of the box and contents as well as the size of the box. For lightweight packages under 15 lbs., choose a 1.6 - 1.8 mil tape. Boxes between 15 - 35 lbs are best sealed with 2 mil tape. Use 2.1 mil - 2.9 mil on boxes between 35 - 50 lbs. Use 3 mil on boxes between 50 - 65 lbs. and 3.5 mil on boxes over 65 lbs.
Tape Widths are 2" or 3".
Tape Length:
Packing tape is available in a number of lengths. The most common lengths are 55 yard and 110 yard rolls, which are ideal for hand packing boxes. Universal tape guns are available to make the application easier. The roll length you need depends on how many packages a day are being sealed. Longer rolls will require less frequent changing of the roll, helping productivity. Shorter rolls are best used when package sealing is less frequent - keeping the weight of the gun a little less and avoiding tape waste with a longer roll. Available tape colors are clear, red, and tan.
Tape Color:
While the color of tape has no functional impact, it does impact the presentation to your customer. In most instances Clear or Tan are the preferred color choice as this will blend into the packaging and present well to your customer. Additional colors are available for use on colored boxes and those are good options if you are using colored packaging. Clear tape allows package writing to show through.
Strong Adhesion to New Corrugated
Wide Temperature Range: 0 – 140 degrees
Withstands Discoloration