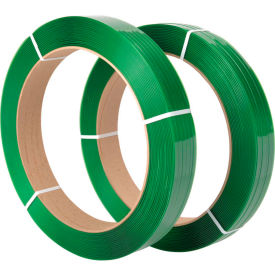 Polyester Strapping
Polyester Strapping can Replace Steel Strapping for Medium and Heavy Duty Strapping Jobs.
Polyester Strapping has the ability to stretch and maintain strength while holding loads in firmly. Polyester strapping is formulated with excellent elongation and memory retention characteristics to help straps stay tight when loads expand and contract. It's lighter and more flexible than steel, so it is ideal for medium and heavy duty applications.
Break strengths range from 600 to 6125.
Available strapping colors are Black, Green, Orange, and White.
Polyester strap can move without deformation or permanent elongation
Core sizes are 1-1/4", 3 x 5", 16 x 3" and 16 x 6"
Widths range from 1/2" to 1-1/2"
Lengths range from 250' to 6500'
Sold in package quantities of 1, 2, 4 and 10 rolls