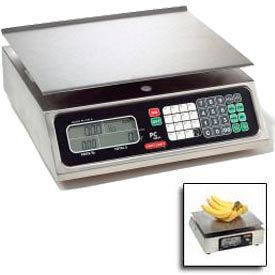 Price Computing Scales
This Legal-for-Trade Pricing Scale Features Durable Stainless Steel Construction.

Price computing scale calculates weight and price with 100 price memory. Used for food service and retail with front and back LCD displays. Weight, unit price and total price are displayed simultaneously on these digital scales. Generous brushed stainless steel platform measures 14"W x 11"D. Price computing scale features 15 one-touch memory keys and is PC compatible using a RS-232 serial port. Includes an AC adapter; also a rechargeable battery that lasts approximately 100 hours on a full charge.