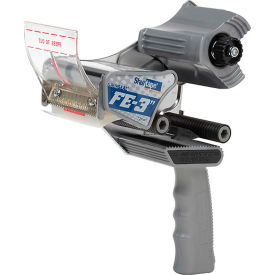 Shurtape® Folded-Edge Dispensers
Shurtape® Folded-Edge Dispensers Are Designed To Seal and Protect Packages For Receiving, Shipping, Storage, and Other Related Applications.
The Folded-Edge® technology folds both edges of the tape creating a secure yet ready-to-open seal with no required cutting. The retractable/pivoting safety blade prevents accidental contact for user protection. The visible tape length indicators allow you to easily view desired lengths and minimize tape waste. The enhanced wipe-down force produces tamper evident case seals for package security. The visible markers provide straight taping guidance for user convenience. The steel and plastic construction provides strength and impact resistance. Gray/blue color finish. Tape widths vary per model.
For the best performance, use
Shurtape® HP Series EZ Release Packaging Tapes.