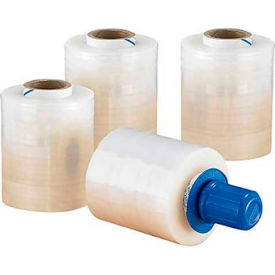 Goodwrappers® Mini Stretch Wrap Rolls
Goodwrappers® Mini Stretch Wrap Rolls Are Designed For Easy, One Handed Wrapping of Boxes, Packages, and Pallets For All Shipping and Storage Environments.

Goodwrappers® mini stretch wrap rolls are ergonomically designed for convenient banding, bundling, and fastening while reducing hand friction and wrist fatigue. Multiple color tint options allow convenient pallet visibility and content identification. Film clings to itself without leaving sticky residues. Polyethylene construction prevents moisture and debris access while stabilizing pallets during transport. Gauges and dimensions vary per model.