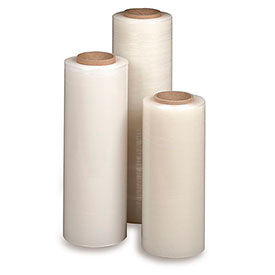 Hand Stretch Wrap - Blown
Hand Stretch Wrap – Blown Provides Superior Puncture Resistance and a High Level of Cling for Wrapping and Protecting Pallet Loads.

Hand stretch wrap – blown offers high level of cling for content stability, it produces less manufacturing scrap. Blown stretch wrap is extremely durable and provides maximum toughness for wrapping and protecting contents from dirt, moisture, theft and more. Polyethylene construction provides strength, and puncture and tear resistant design is ideal for irregular shaped boxes and sharp edges in heavy duty working environments. The clear color finish allows high visibility for easy inventory and content identification. The aggressive cling adheres only to itself and leaves no sticky residue. Dimensions vary per model.