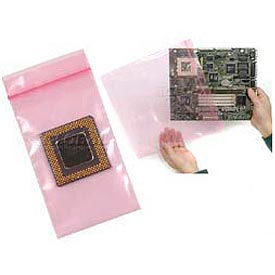 Resealable Anti-Static Bags
Resealable Anti-Static Bags Keep Contents from Electrostatically Charging During Movement or Shipping to Prevent Damage.

Resealable Anti-Static clear plastic packaging keeps ESD and non-ESD sensitive electronic parts free from dust and moisture for long lasting durability. Economical, reclosable and resealable with a double track, heavy-duty zipper for shipping or storing materials. Tested to industry standards for static decay requirement. 3.5 and 4 mil thickness. Available in case quantities of 100, 250, 500, and 1000. Dimensions vary per model.