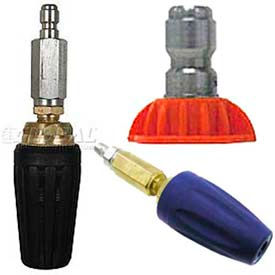 Pressure Washer Nozzles, Foamers & Attachments
Pressure Washer Nozzles Allow Water Pressure Control for Landscaping, Grounds Maintenance, and more.

This includes a collection of more than 25 models of high-performance washer nozzles designed to clean faster than an ordinary nozzle. These pressure washer nozzles are great for industrial, commercial or residential use, and are used for quickly stripping off paint or efficiently cleaning concrete surfaces. The four-packs include 0°, 15°, 40° and soap nozzles. They are to be used with any pressure washer with a quick connect device. Pressure Washer Supply® nozzle packs include one style to be used with 5-6.5 horsepower models, plus another designed for use with 9 HP models or higher. The brass rotary nozzle can handle water temperatures as high as 130°F. It has a capacity of 2,500 psi and pumps up to three gallons/minute. The MTM Hydro-Hydrojet® 4,000 psi Quick Connect nozzles have 5,000 psi, and are made of hardened stainless steel and plastic. The color-coded laser-etched threaded nozzles are designed for convenience, and their dimensions are 3 1/2 x 1 1/2 x 5 1/2 inches. The nozzle sizes in the four-packs range from two to seven inches. It also comes in a five-pack with 0°, 15°, 25°, 40°, and soap nozzles. The nozzle sizes for the five packs are between two and five inches. The 4,000 psi 1/4 female inlet 210° Turbo Nozzle with Quick Connect High Pressure Filter cuts cleaning time in half and is perfect for driveways, walks and other hard-to-clean areas. This nozzle is 20 percent lighter than other models, and easier to use. Its dimensions are 6 x 13/16 x 1 inch. The nozzle is 1 1/2 inches in diameter. It is made out of brass and rubber, and lengths come in 1 1/2 to 3 1/2 inches. The foam jet kit has 5,000 psi and delivers a thick layer of foam covering up to 20 feet. This kit is great for cleaning driveways, automobiles, carports, roofs and siding. It comes in silver, brass and black.The Briggs & Stratton® nozzle models include the 5-in-1 Kit, Pro-Style Spray Tips, 3,000 psi Quick Connect Turbo Nozzle and the Second Story Nozzle Kit. The 5-in-1 nozzle kit features five different spray patterns in one head. It is designed for pressure washers up to 3,200 psi, and connects to a Quick-Connect wand. The Pro-Style Spray Tips replace old or worn out nozzle tips, and have spray patterns ranging from pinpoint to a wide spray. The Second-Story Nozzle Kit includes jet soap and jet flush nozzles, to squirt soap and quickly clean without climbing a ladder. An optional nozzle set is designed for use with gas-powered pressure washers.