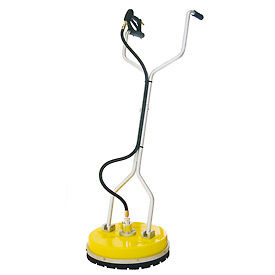 Surface Cleaners & Water Brooms
Whirl-A-Ways Clean Flat Surfaces, Walls And Even Rooftops 3 Times Faster Than Water Brooms.

Flat surface cleaners are able to clean 400 sq. ft. in almost 10 minutes. 4,000 psi rotary head withstands up to 180°F. Offers a maximum flow rate of 8.0 GPM. Features 2 welded steel rotary bars with zero wall clearance for efficient cleaning; Stainless Steel Cleaners have 3 welded steel rotary bars. All models, except 18 Whirl-A-Way have a Nylon brush skirt. Flat surface cleaners are available with Heavy Duty Polypropylene cover or Stainless Steel cover. 12 Multi-Use Whirl-A-Way easily attaches to a long wand to clean hard to reach surfaces. Can be attached to a spray gun and lance for cleaning flat surfaces or used with a high pressure spray gun to clean walls. All Models, except 12 model include an easy to handle tubular frame with comfort grip handles and a flow out front that eliminates water build-up. Surface Cleaners with Casters include removable casters to allow easy rooftop cleaning. Surface Cleaners without Casters offer hover action cleaning used for cleaning rooftops.